James and the Giant Peach
Written by Roald Dahl
Illustrated by Quinton Blake
Reviewed by Zayne P. (age 11)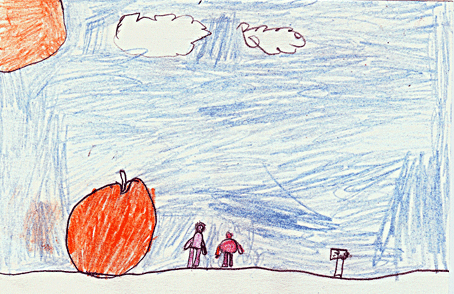 It's about a boy who has aunties that are named Aunt Sponge and Aunt Spiker. One day, they saw a peach on their tree. Then Aunt Sponge and Aunt Spiker were going to share the peach, but it kept on growing. They wanted to put a cage around it. So then, that day, they sold tickets for people to come and see the giant peach. Then everybody took pictures. When they all left, James had to go outside and clean up everybody's mess. Then he saw that there was a big hole in the peach. He crawled up and he found a bunch of huge bugs. Then he camped in the peach with the bugs. They all became friends. The peach started to roll down the hill and it killed both the aunts. It rolled into the ocean. Then there were sharks swimming around the peach, so they decided to try to fly. They tied silk from the silkworm around a bunch of seagulls so they could fly. They flew all the way across the Atlantic Ocean to Central Park in New York. They got stuck on the Empire State Building for a while. James got to live in the peach core in New York for the rest of his life.
I think this was a good book. I liked it because it was funny. My favorite part was when he first got to meet all of the big bugs. He finally had some friends. My favorite character was the centipede because he was always cussing and it was funny. James grew in this story because he was very, sad and lonely boy that had no friends at the beginning, but in the end, he had more friends and he was happier.
I recommend this book a lot. It's interesting how big those bugs were. I think fifth grade through eighth grade would like it.