My Brother Sam is Dead
Written by James and Lincoln Collier
Reviewed by Kavan L. (age 11)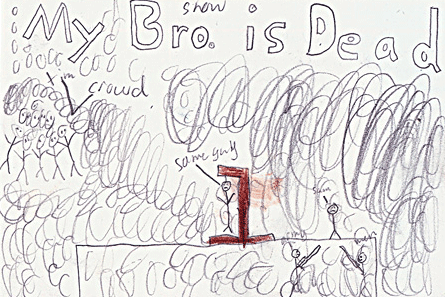 It's about the Meeker family, Tim, Sam, Father, and Mother. Sam is in the Revolutionary War and his father doesn't like that he is in the war. He doesn't want Sam to die. So they argue with each other. Sam wants his father's rifle. Tim and his father go and trade meat for valuables and on the way back, Tim's father dies. Some guys steal some cattle and the policemen blame Sam. Sam gets sacrificed for that.
I think the book is alright. In some parts, the book is boring and in some parts it is mysterious. I don't really like books like that. It could be shorter so people wouldn't get bored with it, that's what I think. Make it shorter and it will be perfect. The end was crusty the way Sam died. He shouldn't have been killed for something he didn't do. I thought Sam and Tim were pretty brave. Sam fought and Tim fooled those cowboys. I think Tim changed the most. He ended up having to do a lot more work because his dad and brother were dead.
I would recomend this book. I think my mom would want this book. She likes books like this.