My Brother Sam is Dead
Written by James and Lincoln Collier
Reviewed by Veronica D. (age 11)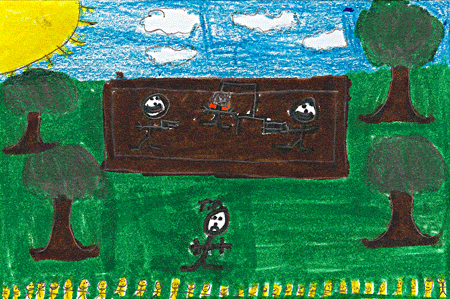 This book is about a boy named Tim Meeker who thought of his brother as an intelligent and brave young adult. When Sam went to war, Tim had to grow up pretty fast to help take care of the household. One day, Tim and his father, Life Meeker, had to go to Verplanks Point to sell beef. On the way there they met some cowboys who were doing some pretty brutal things to Life, his father. The next day they went to Verplanks Point and when they finished, they started off home in a blizzard. They were afraid that they would meet the cowboys again. So, Life traveled a bit ahead of Tim. Soon, Tim grew worried that the cowboys had captured father and killed him. Tim went home and his mother asked him where his father was. They soon found out that he WAS captured and put on a prison ship. He had died from cholera and was buried somewhere on the east coast. Sam's troop was in Redding, which was where Tim lived. Sam came to visit his mother and brother. But while he was visiting them they heard strange noises out by the barn. They had had eight cows but, when they looked out they discovered that they only had four. Sam had been arrested as a cattle thief. Tim went to the encampment to defend Sam but, it was only Sam's word against the real cattle theives' word. Tim only got to see Sam one more time after that. They had a trial and found Sam Meeker guilty of stealing his OWN family's cattle. On February 16 of that year Sam got executed.
This is what I think about this book. I think it's pretty good. It's well written and when I read it, it was like I could see it in my head like a movie as it was happening. It's one of the best novels that I have ever read in my whole life!!! Sure it's kind of long, but it is a FANTASTIC book despite the foul language. I plan to continue to read books by the author of this book.
I recommend this book for kids in 4th grade and up. Kids should read this book because it's really interesting despite the foul language, like I said before!