James and the Giant Peach
Written by Roald Dahl
Illustrated by Quinton Blake
Reviewed by Denver D. (age 11)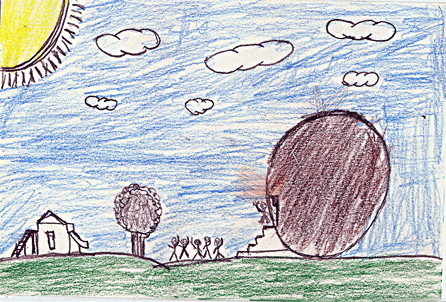 It's about a boy whose aunts are always mean to him and he always gets blamed for everything and he never does anything wrong. Then he meets this kind of mutant guy who gives James a bag of green things. He trips as he is running home, and the green things go into the ground and grow a big peach on the peach tree. The aunts saw the peach and they thought they would become rich by making a profit off of it. People came and came until nightfall and James was watching the people have all the fun until his aunts came and made him clean up the yard. He found a hole in the peach, and climbed up until he bumped into the core which seemed to be a door. He opened it and found humongous insects and James thought that they were going to eat him because they said they were hungry and thirsty. They became friends though, and went on an adventure. They ran into creatures like sharks and cloud-men. Then they saw New York City and everyone got his dream.
I liked this book a lot. I thought it had interesting characters. I really liked the part where the centipede and the earthworm argue with each other. It made me laugh a lot. It's kind of like the movie "James and the Giant Peach", but it had a way different ending. In the book, the aunts got killed by the peach, and in the movie they got eaten by a rhino. This book was exciting, and one of the better books that I have read.
I recommend this book a lot because it is a superb book. I think that fourth, fifth and all the upper grades could read it.