The Bad Beginning
Written by Lemony Snicket
Illustrated by Brett Helquist
Reviewed by Ann Marie D. (age 10)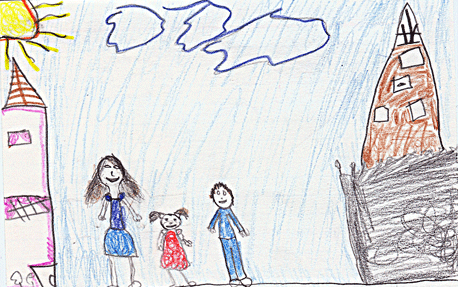 This book is about three Baudelaire children. Their names are Violet, Klaus, and Sunny. Their parents died in a fire. They have to go live with their strange uncle. Their uncle makes him do all the chores. He wants the Baudelaire fortune for himself. He tries to marry Violet in a play so we can get his hands on it. He has Sunny locked up in a bird cage, and Klaus is locked up in a tower so they couldn't tell on him. He ends up not marring Violet. She signed the wedding certificate in her left hand so it wasn't legal. The uncle has to go to prison in the end. The Baudelaire kids have to find somewhere else to live.
The book is good to read. I liked the book. It was sad, but okay. I liked all the children. They were smart, funny and stuff like that. I felt like they were going to live with their uncle for the rest of their lives. I thought it would be sad for them to have to do that for the rest of their lives. This book is not like the movie. You will have to read it to see how it is different from the movie.
I recommend this book to fourth to sixth graders. This book is probably too hard for kids younger than that.