My Brother Sam is Dead
Written by James and Lincoln Collier
Reviewed by Brennon D. (age 11)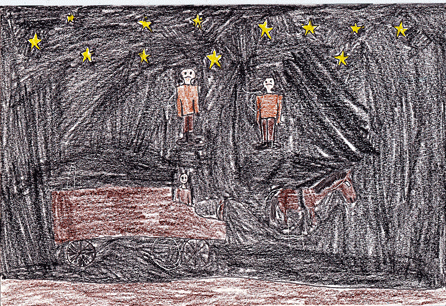 This story is about a boy named Tim Meeker who lives in Redding. He lives with his mother, father, and brother. His brother Sam goes to war. He, his mother and father all live alone. Sam writes letters to them, and his father doesn't want to write back. Then Tim and his father go to Verplancks Point. On the way they meet cowboys. The British army came and escorted Tim and his father. On the way back to Redding, Tim's father rides ahead and doesn't come back. Tim goes home by himself. Later Tim and his mother learn that Tim's father is dead. When Sam comes back to Redding, Tim goes to find him. Then Sam gets executed as a cattle thief.
My opinion of this book is I think it is good. It told me about how the people's lives were during the Revolutionary War. It said that the war was harsh and many people died. Some people got executed for killing cattle just to eat something. The soldiers were living hard lives and were hungry all the time. It told me a lot of things about the war and that is why the book is good.
I recommend this book to middle school students and fifth grade students because it tell about the Revolutionary War. Be warned! This book has a lot of deaths in it.