My Brother Sam is Dead
Written by James and Lincoln Collier
Reviewed by Tanner C. (age 11)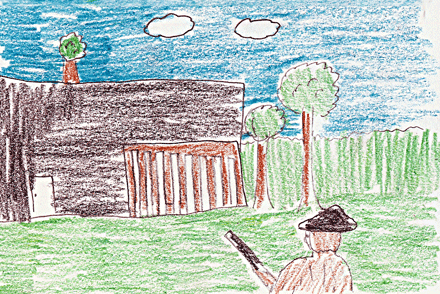 It was the Revolutionary War when Sam wanted to join the war. His dad didn't want him to go, so they argued. Sam also wanted his father's musket. Sam had a brother named Tim. Sam eventually joined the war. Tim and his dad had to drive the cattle to Verplanks Point. His dad went to go sell beef and accidentally sold the beef to the British, so he got arrested. Tim got worried and kept waiting for him but then he went home with the cattle. Some cowboys stopped him and Tim tricked them. When he got back they waited for his dad, but he never showed up and eventually they found out that he was dead. Then Sam came home and Sam already knew that his father was dead. He said he was going to enlist in the war again. His mom said no, but then he went and then came back to stay. Some people were stealing cattle from them. Sam took off to go get them and when he reached them, they beat him and accused him of stealing his own cattle. Sam told Tim to go get General Putnum. Tim went and he couldn't get him. So Tim went to go get Sam out of jail with a musket. He almost got Sam out, but they moved him somewhere else. He came back with a bullet wound. The court people decided to have Sam executed.
My opinion is this is a great book. I like when a lot of action is going on. It was sad when Tim and Sam's father died. It was also sad when Sam died. A lot of people died during the Revolutionary War. But it was worth it because we won and got our freedom from the British.
I recommend this book for other fifth graders because it is historical. It is based on a real war, but some of this book is not true.