The School Skeleton
Written by Ron Roy
Illustrated by John Steven Gurney
Reviewed by Riley F. (age 7)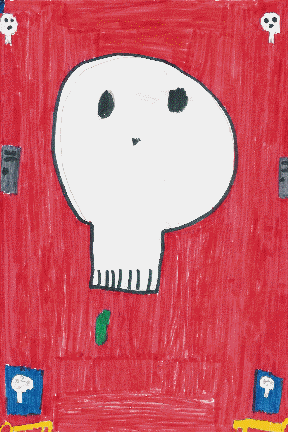 In the book The School Skeleton, someone has stolen the school skeleton. Dink, Josh and Ruth Rose are looking for the skeleton because the principal promises free tickets to the aquarium for the class who finds the skeleton. Someone in each class gets a key in a paper with a skeleton in it. It has a big number two on the forehead of the skeleton. The key is a copy of another key. The key opens a door the skeleton is behind. Dink, Josh and Ruth Rose find the school skeleton.
I liked the book because it has adventure. It caught my attention, it's funny.
My favorite part is when the skeleton sticks its head out the connecting door, it's funny because the skeleton came alive and skeletons don't come alive.
My favorite characters are Dink, Josh and Ruth Rose because they are the main characters.
I recommend this book because it is funny and exciting. A reader who likes adventure or a reader who likes books that are funny would like this book.