The Long Winter
Written by Laura Ingalls Wilder
Illustrated by Garth Williams
Reviewed by Sofia W. (age 8)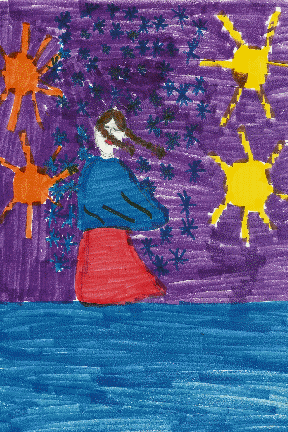 This story is about a long winter way back when, the people still lived in log cabins that they built themselves. There were months of blizzards, seven months to be exact. They knew there would be seven months, because an Indian Chief said so and he was right! It was exciting to know a true story about a family's life through a harsh blizzard filled winter. They ran low with their supplies of food and oil for the lamp. The book's main character is Laura Ingalls Wilder, she wrote it and it's a lovely book.
My favorite part was when Almanzo and another man set out to find wheat. They said someone owned some west of town, they were risking their lives.
The book is unique because you don't find a true story of a girl's life everyday, do you.
My favorite characters were Laura, Nellie and Almanzo because they played good roles.
I recommend this book for all ages because it's happy and exciting at the same time with dangerous tense parts too.