Charlotte's Web
Written by E.B. White
Illustrated by Garth Williams
Reviewed by Anna B. (age 9)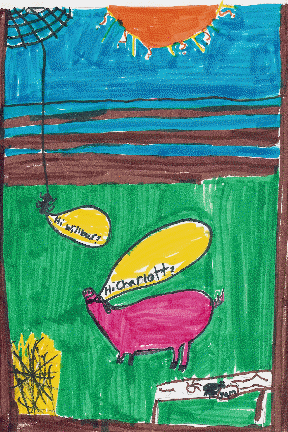 In the book, Wilbur the pig was born as a runt. Mr. Arable didn't raise runts so he tried to kill Wilbur, but instead he let Fern his daughter raise Wilbur at Mr. Zuckerman's farm. When he got shipped to Mr. Zuckerman's farm he met Charlotte the spider, and the gander, the goslings, the horse and the sheep. Wilbur was in a county fair and he won a medal. At the very end of the book Charlotte laid eggs and then she died. Wilbur had new friends and he took care of the baby spiders.
I liked Wilbur because he was cute when he was a baby and because I love pigs because they are pink like my favorite color.
I felt happy because I felt like I was in the book at the fair. The author described a lot of the things and I felt like I was in the book.
The book reminds me of me when I was little, because when I visited a farm I saw almost the same animals and my dad has a farm too.
I would recommend this book to kids in first grade and older because this book is very good. It has a lot of detail and it has a movie that goes with it. The movie Charlotte's Web is a little bit different than the book.