The Red Hen
Written by Byron Barton
Illustrated by Byron Barton
Reviewed by Ryan L. (age 8)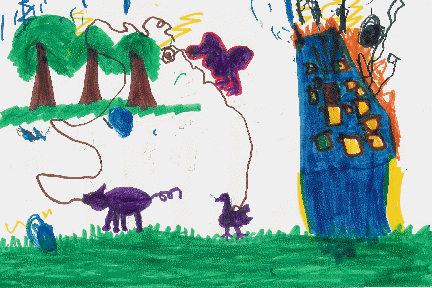 The Little Red Hen by Byron Barton is about a red hen and her friends. In the beginning she planted seeds in the ground. No, her friends did not help. Then the wheat grew. She cut the wheat. No, her friends didn't help. She thrashed the wheat. No, her friends didn't help. Then finally her chicks were old enough to help. She put the bread in the oven then the bread came out of the oven. Then her friends wanted some bread. She said no, you didn't help. You can't have any bread.
My favorite characters are the hen and chicks because they made the bread and they made it homemade. Then hen did the right thing to her friends.
My favorite part was when the bread came out of the oven. It was funny because the smell of the bread took up the whole barn and the hen's friends wanted to eat it. But the hen said, "Cluck, cluck, no". The hen's friends didn't help, so they didn't get to eat.
I have read other versions of the The Little Red Hen, written by other people. In the other Little Red Hen, I have at home, there are four friends instead of three, and they were different animals except for the pig. In both of the books, the little red hen bakes bread, and her chicks get enough to help. Also, like the book I have at home, the hen's friends are lazy and don't help her. In both books they also end the same way.
I recommend this book because it's a good book and it shows you not to be lazy and to help your friends. It also teaches you to help your parents at home. I think toddlers through fourth grade would like this book.