The White Wolf
Written by Ron Roy
Illustrated by John Steven Garney
Reviewed by McKenna F. (age 7)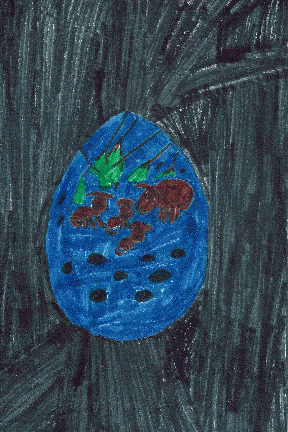 Dink, Josh and Ruth Rose are the characters. They met on the dock in the water. They saw the baby wolves in the woods playing together. The kids had fun. Josh, Ruth Rose and Dink saw human footprints. They thought they were the wolves' footprints because the wolves were gone. They saw the wolves in a cage with a blanket over it. Ruth Rose, Dink and Josh let the wolves out of the cage. The wolves were very happy. Ruth Rose, Dink, and Josh brought them back home to their woods. They played and played and played until they got tired.
I liked this book because it is good. It was sort of scary, sort of sad and happy.
My favorite part was when the kids found the wolves in the cages and let them out. I didn't like the wolves in the cages.
I felt happy reading this book because the kids helped the wolves. The wolves belong in the wild. I wondered if the wolves would ever be free.
I recommend the book because it has wolves in it and kids in it. I think kids who like animals will like this book. Kids in second through fourth grade will like this book.