Henry Gets the Cold Shivers
Written by Cynthia Rylant
Illustrated by Sucie Stevenson
Reviewed by Guy L. (age 8)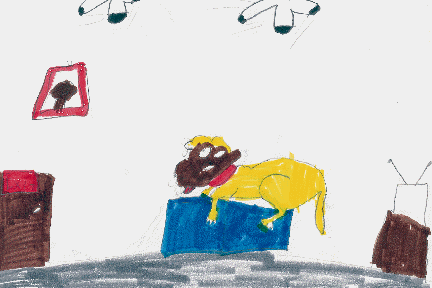 In the book, Henry got a cold and gave it to Mudge. Then Mudge had to go to the doctors, but he hates to go to the doctor. At the doctor, they said Mudge had a cold. Henry is not allowed to kiss him until he is better. So they went home and the next day Mudge was better. The first thing Henry did was to kiss Mudge because he hadn't kissed him in a while.
My favorite part was when Henry thought Mudge could say ah. I think a dog saying ah is pretty funny.
I liked Mudge because he is funny when he needs to go to the doctor. He won't get in the car, but when Henry says time for a bath Mudge jumps in the car.
It is interesting because Henry gets a cold, and then Mudge gets a cold. I just think that is interesting.
People age eight and younger should read this book because it is not that challenging. It was funny and interesting.