Duck Tales- The Hunt for the Giant Pearl
Written by The Walt Disney Company
Reviewed by Caleb (age 8)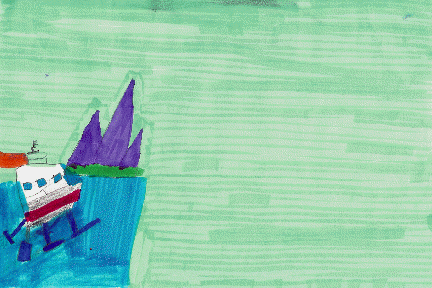 The main characters in this book are Scrooge and his three nephews, Huey, Dewey, and Louie. The book takes place in a city. They are looking for the giant pearl. In the beginning, they go on WEZY TV. Scrooge held up a pearl in his hands. Flintheart, a very mean duck, said that he knew of a bigger pearl than the tiny one he saw. So, Scrooge went home and looked on his computer for information about the pearl. Then, his nephews found facts in their World Book Encyclopedia. Scrooge found out that the big pearl was on Three Peak Island.
The next day, Scrooge started to pack to go to an island to find the giant pearl. Huey, Dewey, and Louie wanted to go too. So, Scrooge let them go. They boarded a ship two hours later.
That's all I'm going to tell you. Read the book to find out what happens next.
I like this book because I like the Little Golden Books. I like them because they are funny in a way. I like this one the best!
I liked Scrooge because he is funny. I also like Scrooge's nephews because they are funny too. (I think that the whole family is very crazy!) I think that they do a lot of wrong things at the three volcanoes on the island.
My favorite part is when they ride the hydrofoil. The hydrofoil is a boat on skis. I like the picture when the hydrofoil looks like it's going so fast that it's going to fly off the water. I felt like I was going to rocket out of my bed when I read it.
I recommend this book for kids who are four to nine years old. I recommend this book for people who like Little Golden Books and books about science and adventure.