Arthur's April Fool
Written by Marc Brown
Illustrated by Marc Brown
Reviewed by Grace G. (age 7), Brian F. (age 8)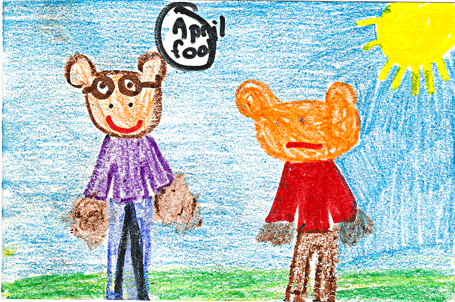 It is April Fool's Day when Arthur and Buster decide to go to the store. Arthur bought a fake telescope and Buster bought sneezing powder. Arthur went to school and practiced magic tricks. Binky came with Arthur's favortie pen. They were acting brave at school even with the fooling that was going on at school. That night, Arthur went home and had nightmares. Arthur went to school the next day and Francine gave him a cookie. It tasted like soap and toothpaste! Arthur needed someone to volunteer during a magic show. Binky volunteered so that Arthur could "cut him in half." Then, Arthur started to cut Binky in half and Binky screamed for his life, but it was just a trick! In the end, Binky finds out that Arthur was just playing an April Fool's joke on him.
Our favorite part of the story is when Arthur was about to cut Binky in half because Binky screamed for his life. We thought this was really funny and the picture made us laugh. Our favorite character is Binky because he is crazy and weird. In the story, he screams for his life during the magic trick which is hilarious. This book relates to our lives because we have April Fool's Day too and like to play tricks.
This book has really good pictures that help tell the story. We like them because they are colorful and have a lot of detail. This is a great book to read because it is funny and you learn great tricks for April Fool's Day!