The Biggest, Best Snowman
Written by Margery Cuyler
Illustrated by Will Hillenbrand
Reviewed by BenjaminM&AlexL (age 6)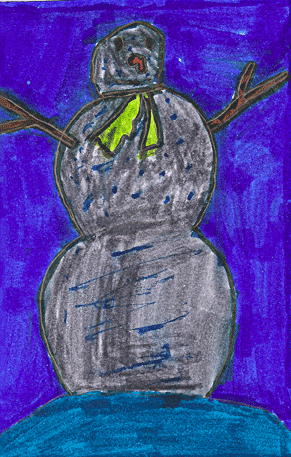 We picked "The Biggest, Best Snowman," because we like snow and we like to make snowmen. We liked the pictures especially of animals and the one of the big house with the lights on it.
In the book little Nell lives with her mom and two sisters. Little Nell asks everyone "can I help?" and everyone tells her, "no you're too small." So little Nell goes into the forest and talks to the bear cub and reindeer. The animals ask if they can build a snowman so they build one. Little Nell goes and gets her mom and sisters and brings them to see the snowman and when they get there they all say, "wow." Then they all go home and make sandwiches.
We loved this book because we love to build snowmen and play in the snow. We recommend this book to kindergartners because it is short and most kindergartners will like it because they like snow.