Magic Tree House: Blizzard of the Blue Moon
Written by Mary Pope Osborne
Illustrated by Sal Murdocca
Reviewed by Maggie (age 8)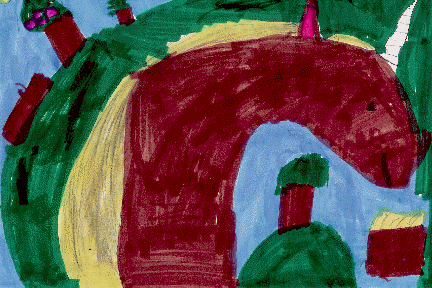 In this story, there was a girl named Annie, a boy named Jack, and a unicorn named Dianthus. This story takes place in New York City. Annie and Jack are trying to find the unicorn Dianthus before the blue moon rises. If they don't, all the magic in the unicorn will fade away in its heart and its horn.
So, Annie and Jack were trying to look for the zoo to find the unicorn. Then, they ran into the museum instead. They went into this big room and found a picture of a unicorn. Find out what happens next.
I liked this book because there is a unicorn in it. I also liked it because there was magic in it. I liked it because they got lost in a park in New York.
My favorite part of the story was when they got lost at the park. I liked when Jack went on a different path than Annie. I liked when they both ran into a castle.
I liked Annie because she is nice and adventurous. I like her because she likes animals like I do. I like Annie too because she has magical friends.
I recommend this book to kids in first to fourth grade. I recommend this book if you like magic and make-believe. If you like unicorns you should read this book.