Miss Holly is Too Jolly
Written by Dan Gutman
Reviewed by D.M. (age 8)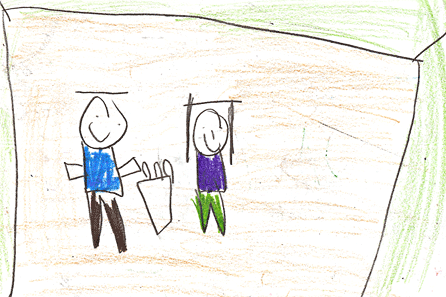 Get ready to blow milk out your nose while laughing during one of A.J's adventures! He considers Andrea his enemy, but at the end of the story he ends up kissing her! His class is going to be in a holiday pagent which is directed by Miss Holly. Miss Holly is the Spanish teacher. Lots of things happened during the play. A.J did something strange during the play which made everyone mad. Will the play be a disaster? How does A.J end up kissing Andrea? If you want to know read this book: Miss Holly is too jolly.
I enjoyed reading this book because it was interesting. It was funny when A.J and his friends decide to be Elvis in the holiday pagent. Then they cause their classmates trouble during the play. The illustrations are also enjoyable because they show how the character feels. For example, when Emily cries about her secret Santa present you can see how sad she feels by the picture. This story is so well written it made me read it over and over again.
I recommend this book to people who love to laugh. IF YOU DO NOT LIKE TO LAUGH, DO NOT READ THIS BOOK!!!!IF YOU LIKE TO LAUGH, BUY THIS BOOK AND BEGIN READING!!!