Miss Small is Off the Wall
Written by Dan Gutman
Reviewed by R.C. (age 9)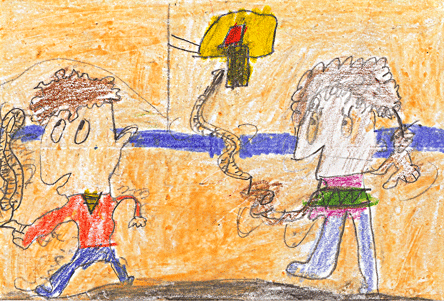 Miss Small is Off the Wall is a funny book because they talk about Fizz ed. Fizz Ed is physical education or gym class. The kids were excited about going to fizz ed. When they got there, their fizz ed. teacher Miss Small taught them to balance feathers, juggle scarves, and play the ghost in the graveyard. Miss Small fell off the tree when she tried to hide. They didn't like it. The kids were hoping to play dodge ball, baseball, football, and hockey, but they never got to play them. Instead, they played the other games. What will happen to her? Will she come back? Will they ever play any of the games they enjoy? Read this book to find out what happens next.
I enjoyed reading this book. My favorite part is when Miss Small told them to balance feathers. It's my favorite because all of the kids could not do it, except Andrea. It's impossible to balance a feather on your finger. This book was funny because Ms. Small made them do wacky things. Some of them were impossible. I enjoyed the illustrations because they showed all of the funny scenes. Some pictures were weird. They had interesting details. This book made me laugh out loud.
If you like sports, you must read this book. It has action and makes you wonder. This book won't take you on an adventure, but it'll make you laugh. If you read this book, I promise, you will enjoy this book! Happy reading!