The Tale of Despereaux
Written by Kate DiCamillo
Illustrated by Timothy Basil Ering
Reviewed by D.N. (age 8)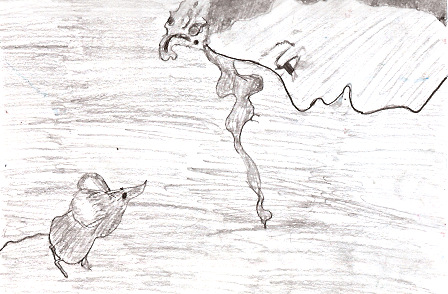 The Tale of Despereaux is a journey bigger than a mouse can imagine! First, a mouse named Despereaux is said to have his eyes open at birth. He won't listen to his siblings who are trying to teach him. He only stares at light and tries to read stories about a knight saving a princess. Next, a rat named Chiarascuro is born. He is curious about light. He went from the dungeon to the castle! Meanwhile, a 6-year old girl named Miggery Sow is being traded for a handful of cigarettes, a table cloth, and a hen. When Mig meets Chiarascuro they make trouble! When Despereaux gets to the dungeon he gets scared of the darkness. He didn't have to go to the dungeon, but he chose to go to save the princess. Despereaux is in love with Princess Pea and tried to save her. Will Despereaux marry the princess? Read this book to find out!
The Tale of Despereaux is surely an enjoyable book! My favorite part is when Despereaux falls in love with Princess Pea. I mean Despereaux is a mouse, and Princess Pea is a human. How can a mouse fall in love with a human? Next, the illustrations are fantastic! They helped me understand the story and what's happening. One interesting charactor is Despereaux. Desperesaux sat afoot of the king, and he fell in love with the princess! How romantic is that? Despereaux can also read! He always says, once upon a time or happily ever after.
If you like adventurous books, then I have a book for you! The Tale of Despereaux will blow you away! I recommend this book to people who like stories with amazing plots and quests. This book is recommended to 4th or 5th graders!