Horrible Harry and the Dungeon
Written by Suzy Kline
Illustrated by Frank Remkiewicz
Reviewed by J.E.T. (age 8)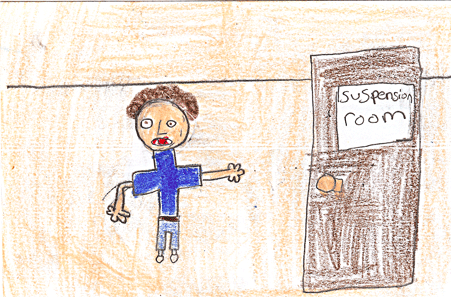 "Stop!" The principal screamed. He had BAD news. He announced that there was going to be a suspension room. Harry's friend said he had seen the room. It was dark and there were no windows. Also it smelled horrible. They called it "the dungeon". Mr. Skooghammer is the person who is in charge of the suspension room. Harry told his friend at lunch that you can go to the suspension room only if you do something bad. Harry said, "Let's put a tack on Mrs. Mackle's chair and run back to the lunch room." When the class came back, the teacher sat on the chair. She looked extremely angry. "Who put the tack here?" Harry and his friends said, "We did!" "Go to the suspension room" said Mrs. Mackle. Harry went to the room. He saw a black bag near Mr. Skooghammer. Harry wondered what was in the black bag. When Harry went back to the classroom at snack time, he told his friends that he had a plan. The plan was to go to the suspension room and look in the bag. Do you think the plan worked? If you read the book you will find out.
I felt so excited when Harry had a plan to see what was in the black bag that Mr. Skooghammer had with him. This book was interesting and a mystery, too. The most interesting character was Harry. He's the one who always gets in trouble. I loved reading Horrible Harry and the Dungeon. It's a great mystery book. So if you want to see what was in that black bag, read the book.
If you like mysteries, well this book is for you! You will not believe how they solved the mystery in this book. You will not be able to put it down. So hold on to your socks because this book will knock your socks off!