The Man Who Wore All His Clothes
Written by Allan Ahlberg
Illustrated by Katharine McEwen
Reviewed by Lukas S. (age 8)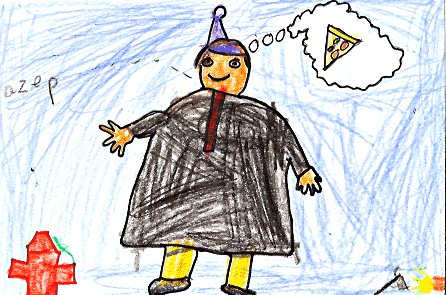 Read about how the Gaskitts get involved in chasing a robber and how their cat doesn?t help. He just watches it on T.V.
This book is exciting when Mr. Gaskitt wears all his clothes. My favorite picture is when the robber can?t get past Mr.Gaskitt. I like this picture because of the details. There are anchovies on the pizza and the robber has one piece in his pocket. My favorite character is Horace. He is a very funny cat who likes watching T.V. and old movies. He does things that most cats don?t do, like doing tricks on the roof.
This story is a mystery. You will like it because it is funny. Why is Mr. Gaskitt wearing all his clothes? You will have to read this book to find out.