The Mystery of the Pirate Ghost
Written by Geoffrey Hayes
Illustrated by Geoffrey Hayes
Reviewed by Dylan W. (age 8)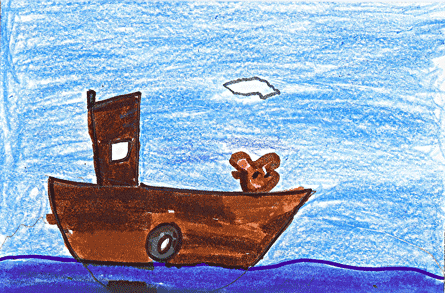 This book is a mystery book. Uncle Tooth and Otto go on an adventure to discover who has stolen several items.
The illustrator includes details that make you think you?re really there. For example, in the picture where Otto is jumping because he is scared of the ghost, the shadow helps you understand it. When Otto found the pirate hat, he ?fished it out with his sword?. I like these words because they really make me want to go on with the story. The illustrator is the same person as the author so his pictures match the text. Sometimes there are little things in the picture that are not in the story. I think this is creepy, like the hand poking up behind a cup.
When I read this book I felt very excited. I enjoyed several surprises in this book. If you like ghosts and scary stories you should check this book out at your local library.