If You Hopped Like a Frog
Written by David M. Schwartz
Illustrated by James Warhola
Reviewed by Kyle L. (age 8)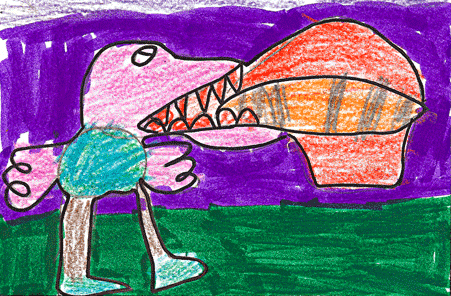 This is a non-fiction book and it tells all about animals. It is also a fiction book that imagines people doing things like animals, such as a person having a beak like a pelican.
Do you know why eagles can see a rabbit from way up in the sky? It?s because they have a trillion cone cells in each eye and we only have two hundred thousand. The picture shows a person up in the sky looking down at a rabbit. It looks scary! I like the funny illustrations in this book. The dinosaur has buck teeth! It is very ugly. I like the picture of the ugly child who has a pelican mouth. Part of the book tells that snakes can unhinge their jaws to eat bigger prey. If my mouth could open like a snake?s, I could eat triple-wide fish sticks.
This book tells funny facts about people doing animal things. You can learn a lot from this book while you laugh at the pictures.