Saint George and the Dragon
Written by Margaret Hodges
Illustrated by Trina Schart Hyman
Reviewed by John D. (age 7)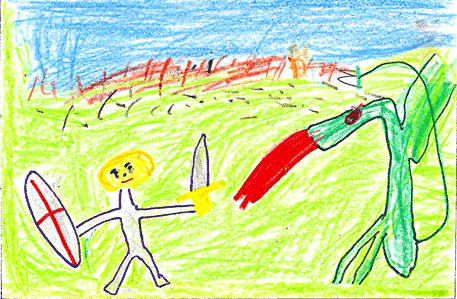 This book is about a knight who goes on a quest to kill a dragon. There is a big battle, but I won?t tell who wins and who loses.
Margaret Hodges uses words that you don?t usually hear. Whole sentences of them! The word ?mighty? is a powerful word and here the dragon rears up ?like a hundred raging lions? after he is hit with a mighty blow. Some of the words sound old-fashioned, like ?threw forth?. I like all the fighting parts. They are full of action and they are scary! The pictures are so real it looks like the dragon is going to jump out at you.
The artwork in this book is stunning. If you like knights and dragons and castles, you will love this book.