The True Story of the Three Little Pigs
Written by Jon Scieszka
Illustrated by Lane Smith
Reviewed by Fabian G. (age 10)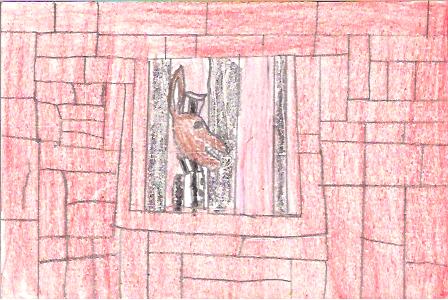 In this story there is sick wolf. He was baking a cake for his grandmother. He does not have the ingredients he needs so he goes to the first pigs house to ask for a cup of sugar. The wolf felt tickles and sneezed. The little pig's house felt down to the ground. The pig run to the second pig's house. The wolf goes to the second pig's house but sneezed again. Both first and second pig run to the third pig's house. The wolf goes to the third's pig house. Read the book to find out what happens at he third pig's house.
Do you think the wolf is going to eat the pigs? Are the pigs going to give the cup of sugar to the wolf so he can go back to his house and bake the cake for his grandmother? Read this great story and you will find out!
This is a very similar story to all the other versions of the Three Little Pigs, EXCEPT this is the "True story." Read this story and other versions of the three little pigs so you can compare them and see which one you like the best. I like this one the most because teh wolf is baking acake for his grandmother! I also like this story because I like to read fiction stories about farm animals. It remainds me about a BIG pig a saw once at a fair. My favorite part is when the pigs play tricks on the wolf. It makes me think about how smart pigs are.