Cinco de Mayo
Written by Mary Dodson Wade
Reviewed by Gilbert Q. (age 10)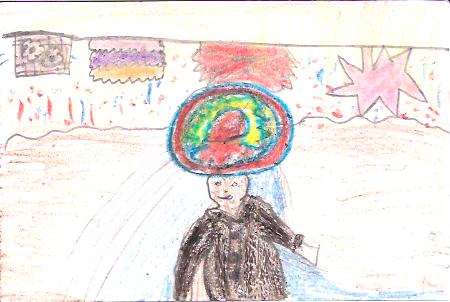 Cinco de Mayo is party time! There are parades in the street to celebrate. In Cinco de Mayo, mariachi bands play music to have fun. Dancers move their feet to the rhythm of the music. Girls wear white blouses and red and green skirts. There are the color of the Mexican flag. Boys wear white shirts and sashes. Sometimes they wear big hats called sombreros. Then some families go to festivals and watch people perform in shows. Children brake piñatas in Cinco de Mayo. People get to eat good food on Cinco de Mayo. Cinco de Mayo is a day to remember the important victory of Mexico.
I recommend this book to all the kids that like Cinco de Mayo. For Mexico, Cinco de Mayo is a day of pride for Mexican people. Read this book to learn about this tradition. Reading this book you can learn about the foods, the music, the clothing, and the colors.
I Like this book because it reminds me of the time when I went to Mexico on Cinco de Mayo. This book shows everything as if you go there for cinco de mayo. It teaches the Mexican tradition for this holiday so popular in the U.S. My favorite part is when they break the pinata and all the candies fall on the ground and everybody runs to get them. I am always the first one to run and land flat on the ground on top of the candies. I get a lot of candies but a lot of kids land over me!