Tales of a Fourth Grade Nothing
Written by Judy Blume
Illustrated by Roy Doty
Reviewed by Diana R. (age 10)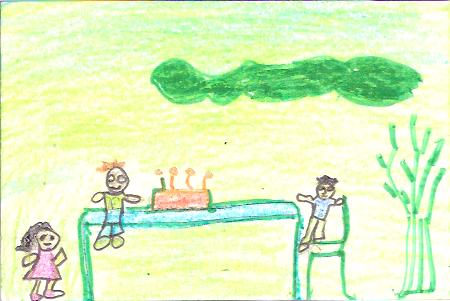 The story Tales of a fourth grade, is about a boy named Peter who is in fourth grade. Peter won a turtle and named it Dribble. Peter has a brother whose name is Fudge. He makes Peter get in trouble. Fudge always wants the same things like Peter. Fudge then went to Peter's room and got Dribble. Fudge is always in Peter's way.
If you want to know where Peter won his turtle, why Fudge is a trouble maker, and why Fudge always gets in Peter's way, read the book. If you are in fourth grade and you have a brother or sister who make you get in trouble, then I recommend that you read this book.
This book makes me think about my little brother who likes to know about everything every body else is doing or talking about. He is like Peter's brother. They never stop! I also like this book because my 4th grade teacher read it out loud to the class.