Revolutionary War on Wednesday
Written by Mary Pope Osborne
Illustrated by Sal Murdocca
Reviewed by Alejandra R. (age 9)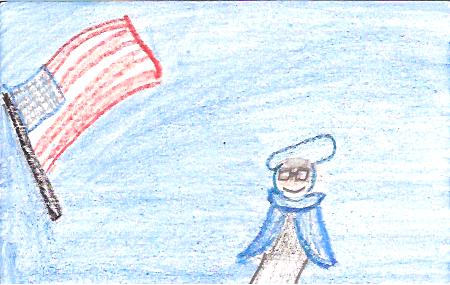 This story is about a girl and a boy named Annie and Jack. They traveled to Revolutionary War. They traveled by a magic tree house that would take them where ever they wanted to go. When they landed in America where the war was happening, Annie and Jack saw some people. Annie and Jack were looking at the people. Then they run to a big rock and hid behind it and started wondering about were was the people from. They wonder if they were American or British people. While they were talking, some one heard them and told the Commander in Chief. In a minute, the Commander in Chief said "Who is behind there? Get out!" Annie said "it is us, Annie and Jack, just kids who come in peace." The Commander in Chief said in a strong and loud voice "are you spying on us?" "NO!" quickly replied Annie and Jack.
If you want to know what happen to Annie and Jack, read this book. You should also read this book if you what to find out if the people were American or British. I also recommend this book to those of you who like to read about wars. Revolutionary War is a great book. You will love this book!
Jack and Anni are my favorite characters. This is another great book from the Magic Tree House Collection. These books are graet for those of us beginning to read chapter books. This book reminds me about the book titled Civil War on Sunday. In this book, Annie and Jack get a court order from some bad people. This book is also similar to the book titled Navy People Vs. Japans People. Both books are about a war.