Who Grows up in the Ocean?
Written by Lucille Colandro
Illustrated by Melissa Carpenter
Reviewed by Jessica H. (age 9)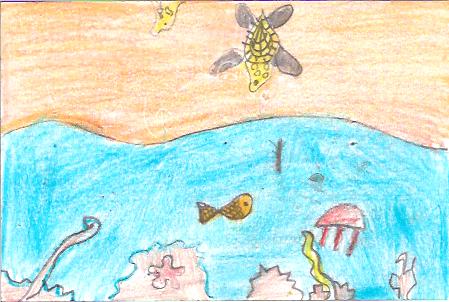 This book is titled "Who Grows Up in the Ocean?" Its about baby animals who grow up in the ocean. Some animals survive without their mother. The moon jellyfish baby is called a Larva. The blue whale baby is called a calf. Read this book to find out what other baby animals are called.
I would like to recommend this book to readers who like sea life. This book is A.R.(Acelerated Reading) so you can read ir and take a test on it too and earn points. The easy vocabulary makes it easy to understand the story. This is a good book for young readers because the colorful illustrations make it easier to follow along.
This book reminds me of the book Dolphins because it is also about sea life. I like sea life because it's like a mysterious world. My favorite picture is the blu baby whale. I am impressed to see how BIG a baby whale is and how fast it grows even more untill it gets huge because whales are one of the biggest animals that grow in the sea.