There Was an Old Lady Who swallowed a Trout!
Written by Teri Sloat
Illustrated by Reynold Ruffins
Reviewed by Briane P. (age 9)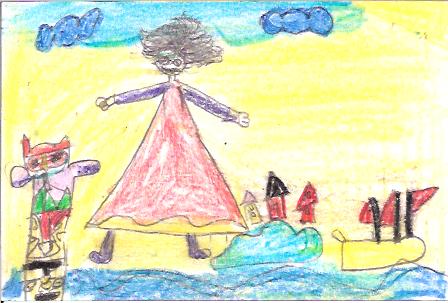 I read a book called There Was an Old Lady Who Swallowed a Trout. The story begins when the old lady swallows a trout. The second thing she ate is a gray salmon. The old lady started swallowing more animals. She swallows an otter and a seal. Everything the old lady swallowed seems weird because you could see it through her dress. She had a fish, salmon, seal, and an otter. She swallowed the porpoise to catch the seal. She swallowed the seal to catch the salmon. Read it to find out what happened to the lady after she swallowed all the animals.
this is a book specially for people who like funny rhyming books. You can read and see the ocean animals in this book. I also recommend this book because it's vocabulary is easy to read, it has wonderful and colorful illustrations and it's arhyming book.
This book reminds me of the Gold Fish book because it's about an ocean animal and so is the Old Lady Who Swallowed a Trout. It also reminds me about the book titled There was an Old Lady who Swallowed a Fly. This book is also about an old lady swallowing animals.