Helen Keller Courage In The Dark
Written by Johanna Hurwitz
Illustrated by Neverne Covington
Reviewed by Rachel B. (age 8) & Helen Y. (age 8)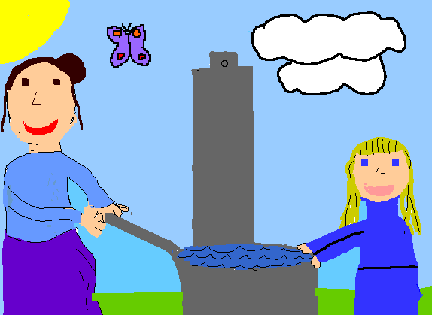 Helen Keller had a bittersweet life. When she was one and a half years old, she caught a high fever. When the fever was gone, she could not see or hear. Her parents had many difficulties with Helen like sticking her two hands in their food and throwing it across the table. One night she thought it was morning and her mother tried to put her back into her bed but she refused. One day a teacher, named Annie, came. If you read this book you will see how Annie changed Helen's life!
We knew some facts about Helen Keller before we read this book but after we read it we learned so much more about her. Now we know almost everything about Helen Keller's life from the time she was born to when she past away. We liked Annie because she helped Helen to learn and grow. We liked Helen because she believed in herself. We also liked when Helen Keller spoke her first sentence. She said, "It is warm." We grew happier as we kept reading the book. We think Helen Keller was very lucky because Annie, Sarah, and everyone else believed in her. We liked Neverne Covington's illustrations because we can see the strokes of paint. The illustrations are colorful and they match the words.
We think this book is a thumbs up book because Annie made Helen believe in herself which encouraged Helen to never give up. We recommend this book to people who are interested in biographies, people who are interested in how people learn to overcome a handicap, and history. We also recommend this book to people who like shadow and colors in their illustrations! We recommend this book to teachers and people who want to teach a lesson.