Lily's Purple Plastic Purse
Written by Kevin Henkes
Reviewed by Annet G. (age 9)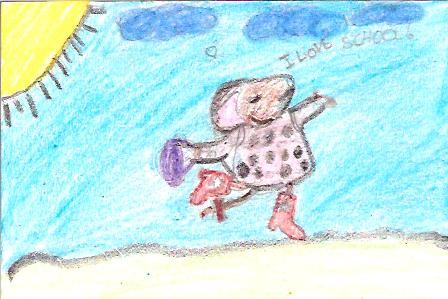 The story Lilly's Purple Plastic Purse, is about a little girl named Lilly. She loved school, the pointy pencils, the squeaky chalk, and when her boots went clickety-click click. Most of all, she loved her teacher Ms. Slinger. One Monday morning, Lilly came to school really happy. She had just bought a new pair of movie star sunglasses, complete with glitter diamonds and a chain just like Mr. Slinger's. She also carried three shiny quarters with her. Best of all, she had a brand new purple plastic purse. While Mr. Slinger was reading to the class a story, Lilly wanted to show them her new stuff. Lilly really wanted to show her things to everyone. She got up and showed her classmates. Read this book to find out what happens next.
I would recommend this book to a person who like fashion accessories such as boots, purses, and movie star sunglasses. I also recommend this book to a person who does things without thinking and to a person who like school.
My favorite part is when Lilly walks into her classroom with her purple purse wanting everyone to notice her. I specially like this book because it reminds me of the day my mom bought me a pair of boots and a white purse with three flowers, a pink, a white and purple, on it . This book reminds me of the book titled Get Ready for Gabi, because Lilly likes to wear boots and so does Gabi. It also reminds me of that book because they both get something taken away.