How Groundhog's Garden Grew
Written by Lynne Cherry
Illustrated by Lynne Cherry
Reviewed by William H. (age 8)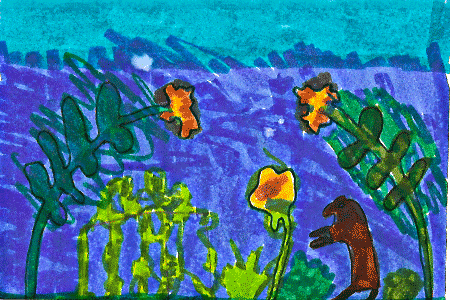 Little Groundhog has a problem. He doesn?t know how to grow a garden. He didn?t have his own garden, so he was taking things from his friend?s gardens.
The story is fiction but the illustrations are realistic. First, the animals have to get seeds from the pods and the insides of fruits and vegetables. The pictures give me information. For example, the seed page has seeds in the border that are probably close to the real size. I think the illustrations match the writing. For example, Lynne Cherry makes a sunflower yellow and red swirl when she writes, ?A sunflower seemed to explode from the top of the tall stalk.? We have been watching root crops like yams grow in our science class. Did you know that onions grow underground? I learned that from this book. Groundhog learns a really exciting thing. When the petals fall off a flower, there is the beginning of a small vegetable. My favorite part of How Groundhog?s Garden Grew is when Little Groundhog shares his tasty garden with his friends. At Thanksgiving, Little Groundhog gives thanks for his friends for helping him grow his own garden.
My family is making a garden this year for the first time. My mom really likes this book. She wishes she had read it before we started! If you want to learn more about gardening, read this book. If you are a gardener, I recommend this book. This book is for people of all ages.