The Three Pigs
Written by David Wiesner
Illustrated by David Wiesner
Reviewed by Dakota F. (age 7)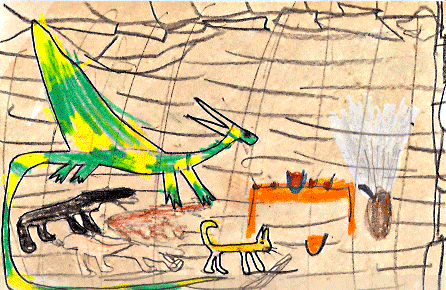 In The Three Little Pigs I read before, the pigs go from house to house when the wolf blows their house down. In The Three Pigs, the pigs hop or get blown out of the story!
My favorite part is when the dragon says, ?Many thanks for rescuing me, O brave and noble swine.? David Weisner uses speech bubbles on almost every page. The animals? mouths are mostly open when the speech bubbles come out. I like the way the illustrator made the expressions on the animals? faces. When the wolf blows the house down and finds nothing but wood, he looks really surprised. When the animals are in the story pictures they are cartoonish and when they are out of the story they look real. This book won a Caldecott medal for the artwork.
Families would like to read this book and look at the pictures together.