Tacky and the Winter Games
Written by Helen Lester
Illustrated by Lynn Munsinger
Reviewed by Ryan P. (age 9)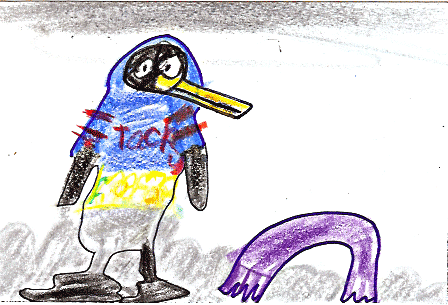 I knew that this would be a funny book because I have read other hilarious Tacky books. Tacky and the rest of his team had a relay race at the Winter Games. When Tacky?s companions passed the baton to each other, Perfect passed the baton to Tacky and Tacky ate the baton!
Tacky often acts silly. The picture of Tacky bellysliding down a hill with his team mates on his back is comical. I like to walk like a penguin. It?s fun to waddle and move side to side. I live in Texas where it never snows but sometimes I visit Washington State. Next time I?m there I?ll try bellysliding.
Tacky reminds me of my brother. Chase often acts silly like Tacky. He likes to go fast when he plays tag, just like Tacky. When Tacky is skating really fast, the author doesn?t make any spaces between the words ?fasterandfaster?. It seems like he?s going faster than ?faster and faster?.
It looks like the illustrator used a pen and watercolors. The pen makes the snow and ice, the feathers on the birds, and details like the wrinkles on Tacky?s shirt when his team mates are dressing him. The paint makes a blue and gray cloudy sky and the bright colors of the team uniforms.
Spinach is one of the Nice Icy Land team?s ?special training meals?. Spinach is one of my favorite vegetables, but Tacky doesn?t eat spinach. He eats doughnuts, pizza, and potato chips! Tacky?s room is different than my room. He has a T.V. and a paddleball in his room. He doesn?t have parents, so he can write on his walls, eat popcorn and spill it on the floor, and stay up as long as he wants to. There?s surprise at the end of this book, but I can?t tell you what it is. You?ll have to read this book to find out.
I think people who like funny penguins should read this book. The illustrations are great! Go to your local library and get this book today.