Magic Tree House: Thanksgiving on Thursday
Written by Mary Pope Osborne
Illustrated by Sal Murdocca
Reviewed by Vivian S. (age 10)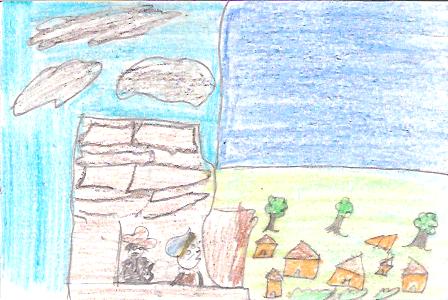 In this book, there are four important characters. The main characters are Jack, Annie, Morgan, the enchantress, and a cute little dog named Teddy. In this book, Jack and Annie have to find one more magic things to break a spell off of Teddy the dog. It was a beautiful Thursday morning, Jack and Annie were going to their grandma's house that day. A few minutes later, Annie hears Teddy barking. They told their parents they would be back later. They head out to frog creek woods. The tree house is in a dark tree. They climb up and see their books in the corner. There was a book with a picture. Then they said, "I wish we could go there." Then everything was still.
Read this book to find out if Jack and Annie ruin the first Thanksgiving, or if they succeed. I suggest this book to people who love adventures.
This book is from the Magic Tree House. It is another fun, interesting, misterious book to read. As I was reading this book, I was thinking about This book the books from the A to Z Mysteries series because they are about misteries too. I also like this book because Thanksgiving is my favorite holiday. Like Jack and Annie, I celebrate Thanksgiving with my family.