The Magic Treehouse-The Knight At Dawn
Written by Mary Pope Osborne
Reviewed by Adam N. (age 10)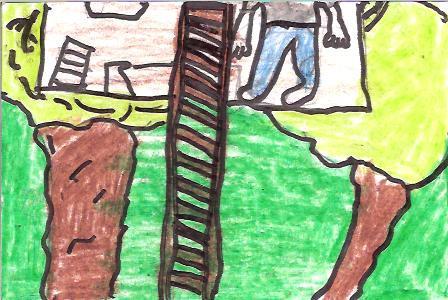 In this book there are two kids who take a short cut from school. They find a tree house and go inside. When they wish to go in a book, it worked. When they go back home, the boy wakes up in the middle of the night and looks at his clock. He looks in his notebook and sees the picture of a medallion with the letter "M" on it. His sister comes in and tells him to put his clothes on and go back to the tree house. They meet in the kitchen and go to the tree house in the woods. They wish to go in a book about the dark ages. If you want to know what happens next, read this book.
Read this book, specially if you like books about mistery. This is part of the series Magic Tree House. These are great books for young readers who are beginning to read chapter books. These books also help readers to use their imagination because they make you wonder what would happen next and how would the story end.
I really like this book because of the trouble, mysteries they get into. I recommend this book to people who like to read about mysteries. These books are great! This book reminds me of the book Harry Potter and Sorcer's Stone. They both seem to scare themselves during the night. They both have a lot of mysteries too. These books remind me of other Harry Potter books because they are all about misteries. I specially like this book becase once, I woke up in the middle of the night. I hear people singing happy birthday. I was very scare! I thought I was dreaming. I wanted to go back to sleeep, but I also wanted to find out who was out there singing, but most of all, I wanted to find out who woke me up!