Charlie and the Chocolate Factory
Written by Roald Dahl
Illustrated by Quintin Blake
Reviewed by J.T. (age 9)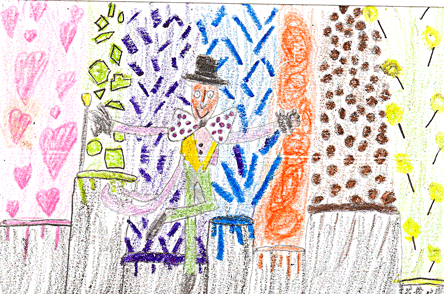 Mr. Willy Wonka's factory is opened! Charlie Bucket dreams of going there, but only five lucky kids can go. Mr. Willy Wonka, the owner of the factory, sent out five golden tickets in five different Wonka bars. The only way to go to the factory is to find a golden ticket. How will Charlie get the golden ticket? He is too poor. The first golden ticket is found by Augustuso. It's Charlie's birthday, and he gets one dollar to buy a candy bar. Charlie was not lucky this time. He didn't get the golden ticket. The second and third tickets were found by Veronica and Violet. Charlie's Grandpa Joe saves a dollar and he wants to give it to Charlie to buy a candy bar. He buys another bar and still doesn't get the golden ticket. The fourth ticket was found by Mike. One day Charlie was walking in his town and found ten dollars. He spent one dollar on a candy bar. Finally , he got the last golden ticket! What will Charlie find in the chocolate factory?
Charlie and the Chocolate Factory is the best! My favorite part was when they were in the glass elevator. First, they crashed out of the building, and then they were floating in the air above the town. Mr. Willy Wonka is a very unusual character. He has a whipping machine for whipping things like whipped cream. Also, he sends candy into the T.V. and then you can take it out of the T.V. He has Oompa- Loompa's working in his factory. Mr. Willy Wonka reminds me of my sister. They both think of crazy ideas. Also, they both like to go fast. This book will make you want to read all day long.
Warning! Warning! Do not read this book if you are not an adventurous person. This book is full of jokes and mysterious adventures. I recommend you read this book before you see the movie.