Geronimo Stilton: Christmas Toy Factory
Written by Geronino Stilton
Reviewed by L.K. (age 9)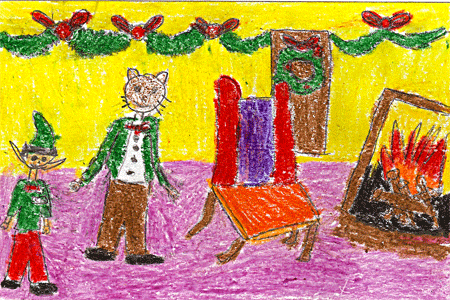 Geronimo Stilton: The Christmas Toy Factory, is an adventurous book! This book is about Geronimo Stilton helping Santa with an enormous job. Near Christmas time, Geronimo has a lot of paperwork to do. He also has to write a book about the true spirit of Christmas. But he has trouble because he doesn't know the true meaning of Christmas. All of this work is causing him to turn down jolly friends.
When Geronimo is about to go home from a long day of work, an elf came through his chimney and takes him to the North Pole. There, Geronimo meets Santa Claus. Santa told him that he had the measles and needed somebody to take over for him on the busiest night, Christmas Eve. That somebody is Geronimo. He declared "I'll do it!" Right after he packed all of the toys in the sled, had the list of addresses, and waved goodbye to everybody, he left. It didn't seem like a very long time to everybody because the time was stopped. When he got back to Santa's house he took a quick little snooze.
Geronimo was awoken by a knock on his door. He looked around and found himself in his office. Then he remembered his trip. He thought it was a dream. Was it? Was the adventure that Geronimo had all just a dream? Read this book to go on his adventure and answer the question.
I enjoyed reading this book. This book was really adventurous. For example, Geronimo traveled all around the world to deliver presents. Also, he only had one night to finish his task. That must be a lot of work. My favorite part of the book was when Geronimo saved Ding-Dong from slipping into the ice. It was scary so Geronimo had to think fast to save and elf. It was also a moment of pressure for him. He had to do it all by himself in a few seconds or an elf would be drowned. I'm glad that Geronimo saved Ding-Dong. I enjoyed the illustrations in this book. The pictures helped show what the author meant if I didn't know any words. The pictures also helped explain a moment in the book and make it more detailed, just like when Geronimo saved Ding-Dong. Geronimo Stilton: The Christmas Toy Factory was truly a surprising adventurous book!
Warning! If you are a child that dislikes adventures, put this book down and go back to the library. Adventure cravers, your trip for a good book has ended. Geronimo Stilton: the Christmas Toy Factory is what you are looking for!