Dear Dumb Diary, Let's Pretend this Never Happened
Written by Jim Benton
Reviewed by S.W. (age 8)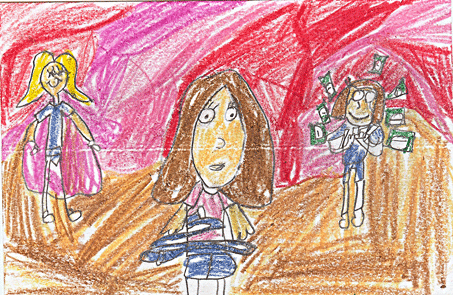 Dear Diary, something has gone wild! Jamie keeps a diary about her weird life! A girl named Angeline is the most popular girl in school. Everyone in school follows what Angeline does. Jamie does not like Angeline because she is so perfect. For example, her hair is shiny and pretty, she has perfect pearly white teeth, and she never gets in trouble. Then, Jamie wrote about the time Angeline stole Jamie's future boyfriend. Her future boyfriend's name was Hudson. She charmed him and got his attention with her radiant smile. Another time she wrote about how Angeline threw meat loaf at the cafeteria monitor. Jamie took the blame for it. Things changed when Jamie's dog ate her mythology report. Angeline told the teacher they did their report on trolls together. Why do you think Angeline helped Jamie? Get this book to find out!
This book was outstanding! When you first start to read it, it makes you want to flip onto the next page when you are not even finished with the first page. The book made me wonder why Angeline was being so nice to Jamie after she was so mean to her all of the time. I enjoyed predicting what would happen next when weird things happened. Angeline and Jamie are two interesting characters because they are mean in different ways. One day they're nice to each other, and another day they're mean. I also enjoyed the illustrations because they gave me a picture in my mind of what the scene looked like. My favorite part was when Jamie's cousin looked like a troll! That part made me laugh. I want to try to read more books from this series!
STOP! If you're a person who doesn't like really creative thinking, this is not the book for you. This book is mind blowing with a blast of creativity that is so fascinating. The events in this book could never really happen. Now, if you just read that, and are interested, this can be the book for you!