Titanic
Written by Cathy East and Mark Dubowski
Reviewed by Maria O. (age 10)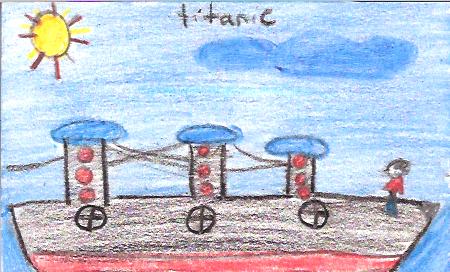 This book is about a giant ship that traveled to New York. Long ago, they build a ship called Titanic. One day in April 12, 1912 they were sailing in the ship. They were about to hit an ice berg. The captain's name was Smith. They said that they were about hit an ice berg. "Oh no!" said the captain, "turn right!" But it was too lat. The Titanic had just hit the ice berg.
You should read this book if you want to find out what else happened after the Titanic hit the ice berg. Read this book also to lear about the worse tragedy that has ever happend in the ocean. I recommend this book if you want to know if the passangers survive or not.
This story makes me wonder about how does it feel to be on a giant boat. I wonder if the passangers on BIG ships who take two week long cruses ever think about what happened to the Titanic.