The True Story of the Three Little Pigs
Written by Jon Scieszka
Illustrated by Lane Smith
Reviewed by Jessica S. (age 8) & Jenna H. (age 8)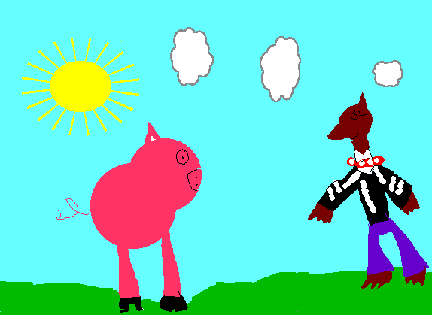 This book is about a wolf that has a bad cold and runs out of sugar. So he goes to his neighbor for a cup of sugar. In case you thought this is wrong this is a different version of the three little pigs because the wolf isn?t big and bad. He is nice! You might think he is mean because he gets very frustrated and the reporters report him and he is in the newspaper. They call him big and bad. If you liked The Three Little Pigs you will love this book because it is funny.
We think this is a super book because some people think they know the true story of the three little pigs but they really don?t we think everybody should read this book because it is interesting. Our favorite part is in the beginning because the wolf talks you. He really talks to you through the whole book. For example, in the beginning, he says ?Everybody knows the true story of the Three Little Pigs. Or at least they think they do. But I?ll let you in on a little secret. Nobody knows the real story, because nobody has ever heard my side of the story.? Then it just goes on. We think that part is funny because in other books they don?t talk to you. Well not unless they are saying something.
We recommend this book to you because it is so funny! You will laugh your pants off. We like this book very much because we never heard anything like it!