The Good, The Bad and The Goofy
Written by Jon Scieszka
Illustrated by Lane Smith
Reviewed by Kilyn P. (age 9)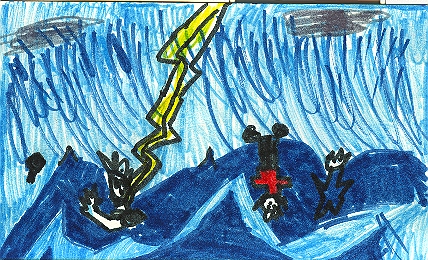 Sam, Fred and Joe were watching Cowboy Bob. And Joe said ?I have been reading a little bit more of ?the book?. ?And I think I found a spell that could get us out of trouble And it?s called the Industrial Strength Time Freezer Spell?. Sam jumped up and said ?oh no you don?t?. Sam said Yippee Ki yi yippee,Yippee ki yi yo take us cowboys long, long ago. Joe said what did you say? And they were in a desert. A man yelled ? Cooky?! ? Hey cooky! A man came toward him he was dressed in full cowboy gear. Then Sam chanted a spell. A stampede came.
Time freezes when Sam waves his sock. Fred thought what if Jake and Cody have ?the book?. Joe said what if Fred might be right, because the calvary always comes to the rescue. They must have ?the book?. They saw a brave. The brave gave them a slice of something. Joe said it tasted like old sneakers mixed with bacon fat and rotton berries. Sam said what were you expecting buffalo pizza? The medicine chief then pulled a fur pouch out of his saddle and handed it to Sam. In the pouch was ?the book?. The mist rose and BOOM! They were gone.
My favorite character is Sam because he is really funny. My favorite part was where the brave gave them a piece of something that tasted gross. It?s my favorite because I like to read about things that taste and look gross. And every time I read it I laugh. This story is kind of like Knights of the Kitchen Table, because they go in a magic portal, get in trouble and then come back like nothing happened.
I recommend this book for children ages 7 to 12. Younger kids may not understand all of the words that are in this story.