The Good, The Bad and The Goofy
Written by Jon Scieszka
Illustrated by Lane Smith
Reviewed by Syann G. (age 7)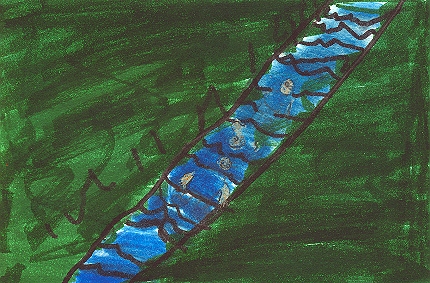 In the hills there were Indians. Sam, Fred and Joe traveled through time to the wild, wild west. They were pounced on by a herd of cattle. They were chased up a hill and were captured by Indians. The boys were tied to a tree by the Indians. The Indians have the Magic book and sat it right in front of their eyes and left. They got loose. Sam, Fred, and Joe used the magic book and traveled home before Sam?s mother got there. They were at home pretending nothing happened. When Mother got home she was in a good mood.
My favorite part was when the cattle were charging and Sam was holding a sock. I couldn't believe that he thought a sock would hold off a stampede! I like Sam, Fred, and Joe because they?re funny. I think it was funny because Sam wore a sock in front of the cattle. This story is like Knights of the Kitchen Table where Sam, Fred, and Joe's magical trips begin.
My recommendation is for kids ages 7 to 12 years old read this book. They will like it because it is funny.