Junie B. Jones is a Party Animal
Written by Barbara Park
Illustrated by Denise Brunkus
Reviewed by Sarah E. (age 9)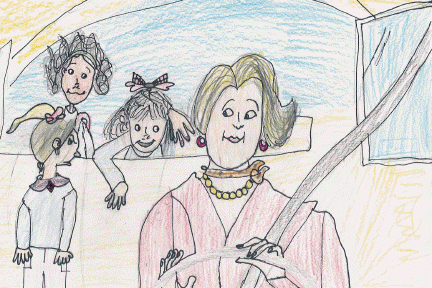 I read the book Junie B. Jones is a Party Animal. This book is about a girl who is 5 years old and is in kindergarten. The problem is that Junie B., Grace and Lucille are having a sleepover and the three girls stressed out Lucille's Nana. For example, say my friend is having a sleepover party and I'm at the party and her mom gets stressed. That's just like Lucille's Nana.
My favorite part was when Junie B. saw Lucille's Nana and Junie B. ran and gave her a huge hug. It was funny and the look on Nana's face was very funny.
The character I liked was Junie B. because she was funny and annoying. She was annoying when she kept bothering her mom saying is it 3:00? Junie B. was funny when she said words funny like when she said, "A million bazillion."
When I read this book it made me feel happy because Junie B. was happy a lot. I also felt bad for Junie B. because she kept spilling stuff like she kept spilling her juice and spilling her food.
I recommend this book to first graders to adults because it is funny and interesting. If you like Junie B. Jones books, you'll want to read this book!