Pressure Play
Written by Matt Christopher
Illustrated by Karin Lidbeck
Reviewed by Ashley M. (age 8)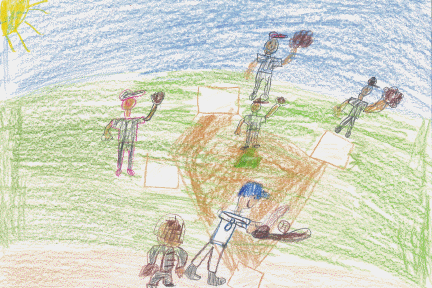 I read the book Pressure Play. The settings were Travis' home and the baseball field. The problem was Travis was doing a horror video contest and the baseball playoffs at the same time and when he was playing baseball he was daydreaming about the video contest. Did he win the contest or did he win the playoffs? Read the book and find out!
I thought this was a good book because I like baseball. Travis was being bullied about playing horrible, but he sort of ignored them. I liked all the mysterious calls and messages Travis got because he didn't know who was giving them to him.
My favorite part was when Travis found out who was sending him the mysterious phone calls and messages. I was surprised!
When I read the book I felt sad and happy. I felt sad when Travis was being bullied. I felt happy when he had good luck at the end.
I recommend this book to 2nd through 6th graders. This is a good book for people who like baseball or horror videos.