Horrible Harry Goes to the Moon
Written by Suzy Kline
Illustrated by Frank Remkiewicz
Reviewed by Gus O. (age 8)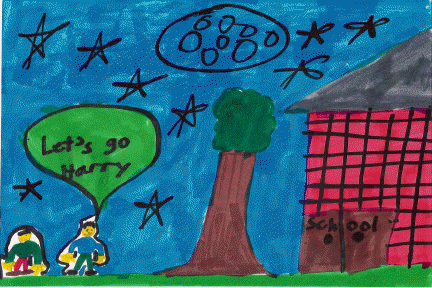 I read the book Horrible Harry Goes to the Moon. It is a good book. The main character is Harry. I like him because he has crazy ideas. This book takes place in Harry's classroom. Hey, I have a question; does Harry really go to the moon? Read the book to find out!
I think the book Horrible Harry Goes to the Moon is a good book because there are funny characters like, Sidney, Song Lee and of course Horrible Harry. It is funny when Sidney orders Mary off the new couch Miss Mackle bought for the class. Also when Song Lee chuckles at Harry. Do you want to find out what Harry does that is funny? Well, read the book!
This book reminds me of my school's Monster Mash. The Monster Mash is a big school party and Harry's school has a big party too! It also reminds me of Halloween and the story I'm writing in school.
On the cover of this book there is a picture of Harry in a space suit and Harry is about to land on the moon. I like this picture because you can see space and the meteors that have hit the moon.
I recommend this book to kids from 1st grade to 3rd grade. It is a good book for parents, uncles or aunts and Grandmas or Grandpas to read to kindergarten and 1st graders.