The BFG
Written by Roald Dahl
Illustrated by Quentin Blake
Reviewed by Eliza M. (age 9)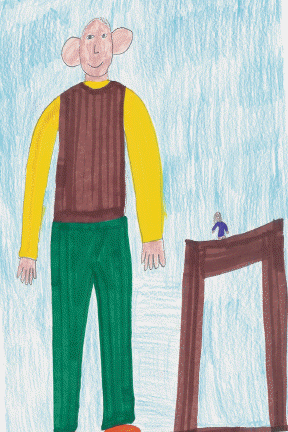 The BFG is about a little girl name Sophie and a Big Friendly Giant. The problem in this story is that the other nine giants go galloping off to places at night and snatch up people and eat them. Sophie and the BFG try to stop the other giants from eating the people. They go on many very dangerous and risky adventures. Read the book to find out if the BFG and Sophie can stop the other giants!
My favorite character in the book is the BFG because he talks really funny and has a good sense of humor. He was very, very funny when he was talking about whizzpoppers and after talking about whizzpoppers, doing whizzpoppers!
I really love the illustrations in this book because they are really realistic and funny. I really like them because they make Sophie look like an ant compared to the BFG.
When I read the book I felt kind of weird, happy and scared. I felt weird at the beginning when the BFG snatched Sophie. I felt happy when Sophie tried drinking frobscottle, she loved it! I felt happy for her because she actually had something yummy to drink. I was scared when the Bloodbottler was threatening the BFG because I didn't want the BFG to get hurt.
I recommend this book to people from grades 1-4 because it's funny. You can learn a lesson from this book; don't judge someone before you get to know them. This book is fun to have a grown-up read to you! You will laugh and love it!