The Hobbit
Written by J.R.R. Tolkien
Illustrated by Alan Lee
Reviewed by Ethan M. (age 8)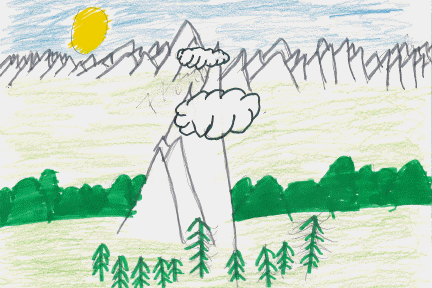 Have you ever read The Hobbit? It is a funny, breath holding masterpiece and you usually get hooked on the third page! It is about Bilbo Baggins who is a hobbit. Bilbo, like most hobbits doesn't care for adventure, but there is an exception, however, his mother's family the Tooks, are fond of adventures. All of a sudden, without warning, 12 dwarves, Dwalin, Balin, Kili, Fili, Dori, Nori, Ori, Oin, Gloin, Bifor, Bofur, Bombar, Thorin and one wizard Gandalf, ask him to go on an adventure with them. Will the Baggins side win and he'll stay or will the Took side and he'll go? Read the book and find out!
My favorite part is when Smaug, the dragon got killed. It was really, really, really exciting! It's one of the most exciting parts in the book because it is written with such great detail.
My two favorite characters were Bilbo and Gandalf. I like Bilbo because he didn't know it, but he was really brave. Gandalf is like how Dumbledore is in Harry Potter. They give the questions or the answers, but make you find out the answers or the questions yourself.
J.R.R. Tolkien was a unique man. The only person more unique as an author is J. K. Rowling. Tolkien wrote many books including The Lord of the Rings. He was one of the 20th century's most loved authors.
I recommend this book to 4th graders through adults. It is also a great book to read aloud at home and at school.